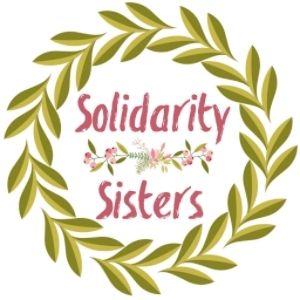 Helllooo from Charlotte!
Back in October I participated in Susannah's Solidarity Sisters program for the first time.. She mentioned the sign up's in one of the facebook groups i'm in and I thought it would be nice to join in. I was Paired up with Ashley from
New Mom in a New Era
and I decided to interview her so that you guys could get to know her a bit more.
My name is Ashley, I am a young mother of one beautiful 5-month-old girl named Camila, engaged to a tall dark and handsome man named Jeffrey, and I'm taking you on my journey through motherhood. It hasn't been easy, but it sure has opened my eyes to a whole new world! I'm an amateur photographer, Independent Business Owner, part-time blogger, and a veteran.
List the top 5 Cities You've Visited and Why.
I don't get out of Texas much, but my #1 would be Miami, Florida only because I love tropical weather & don't get much of it here in Texas!
2nd would be where I live now Houston TX, because there is so much diversity and there is so much to do here; I'm never bored.
3rd: San Antonio, it's my home town, duh! The river-walk is amazing and full of good eats. I could go there everyday for a month and eat somewhere different each time I swear.
4th Austin, I love Austin it's so beautiful and full of life. The hills, lake Travis, the history, the culture everything about Austin is amazing.
5th Dallas, I've only been to Dallas once & I'm dying to go back & explore what they have to offer!
What do you like doing in your spare time?
My favorite thing to do these days is take hundreds of pictures of my beautiful baby girl Camila, my handsome, and of my little brother Noah. They keep me busy all the time!


If you could wake up tomorrow having gained one quality or ability, what would it be?
The ability to slow down time. My little angel is growing too fast for me, I try and enjoy every second I have with her while she's this little but I feel like there's just not enough hours in the day.


I love new recipes, what is your favorite food to cook for lunch( or dinner)?
Tortilla Soup!! I live for anything in soup form. I combined a couple recipes from pinterest & came up with my perfect tortilla soup. Just haven't exactly mastered the tortilla strips yet.


Would you rather spend the night in a luxury hotel or go camping in a tent?
Camping in a tent 100%! My family goes camping at least once every year and I love it. What's better than sitting around a campfire completely disconnected from the world telling old stories and roasting some marshmallows!
If you haven't already stopped by her blog, check out her top three posts:
Dear Kid-less Friends
Tweet
This month's sponsor: